Causes of all kinds of headaches?
Your headache symptoms can help your doctor determine its cause and the appropriate treatment. Most headaches aren't the result of a serious illness, but some may result from a life-threatening condition requiring emergency care.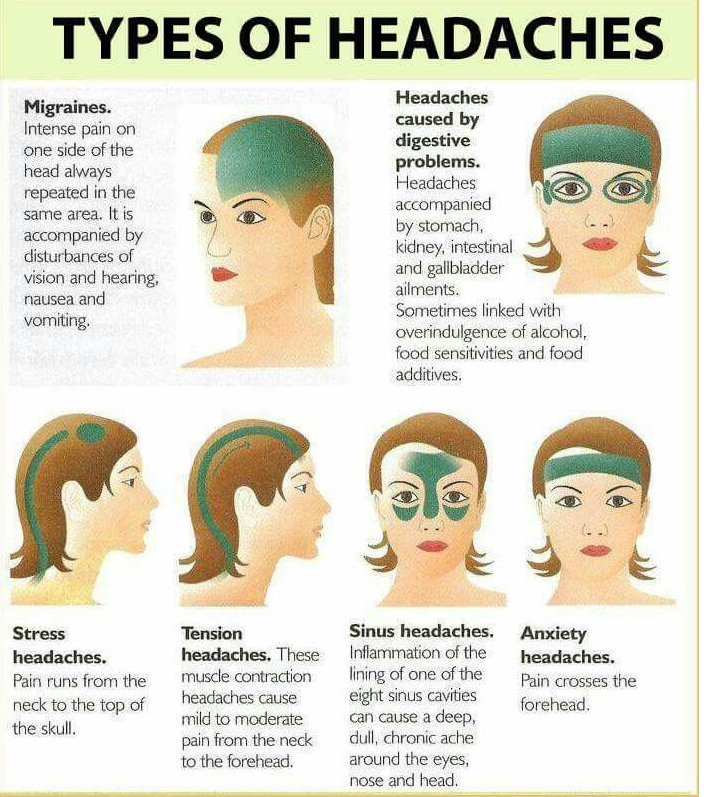 Primary headaches
A primary headache is caused by overactivity of or problems with pain-sensitive structures in your head. A primary headache isn't a symptom of an underlying disease.
Chemical activity in your brain, the nerves or blood vessels surrounding your skull, or the muscles of your head and neck (or some combination of these factors) can play a role in primary headaches. Some people may also carry genes that make them more likely to develop such headaches.
The most common primary headaches are:
Cluster headache
Migraine
Migraine with aura
Tension headache
Trigeminal autonomic cephalalgia (TAC), such as cluster headache and paroxysmal hemicrania
A few headache patterns also are generally considered types of primary headache, but are less common. These headaches have distinct features, such as an unusual duration or pain associated with a certain activity.
Although generally considered primary, each could be a symptom of an underlying disease. They include:
Chronic daily headaches (for example, chronic migraine, chronic tension-type headache, or hemicranias continua)
Cough headaches
Exercise headaches
Sex headaches
Some primary headaches can be triggered by lifestyle factors, including:
Alcohol, particularly red wine
Certain foods, such as processed meats that contain nitrates
Changes in sleep or lack of sleep
Poor posture
Skipped meals
Stress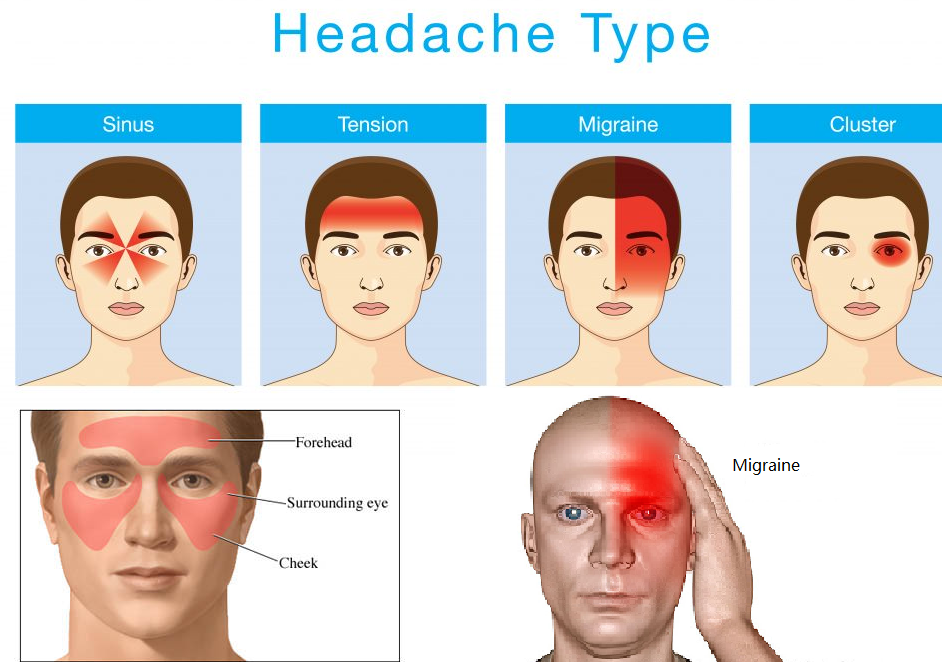 Secondary headaches
A secondary headache is a symptom of a disease that can activate the pain-sensitive nerves of the head. Any number of conditions — varying greatly in severity — may cause secondary headaches.
Possible causes of secondary headaches include:
Acute sinusitis (nasal and sinus infection)
Arterial tears (carotid or vertebral dissections)
Blood clot (venous thrombosis) within the brain — separate from stroke
Brain aneurysm (a bulge in an artery in your brain)
Brain AVM (arteriovenous malformation) (arteriovenous malformation) — an abnormal formation of brain blood vessels
Brain tumor
Carbon monoxide poisoning
Chiari malformation (structural problem at the base of your skull)
Concussion
Coronavirus disease 2019 (COVID-19)
Dehydration
Dental problems
Ear infection (middle ear)
Encephalitis (brain inflammation)
Giant cell arteritis (inflammation of the lining of the arteries)
Glaucoma (acute angle closure glaucoma)
Hangovers
High blood pressure (hypertension)
Influenza (flu) and other febrile (fever) illnesses
Intracranial hematoma
Medications to treat other disorders
Meningitis
Monosodium glutamate (MSG)
Overuse of pain medication
Panic attacks and panic disorder
Persistent post-concussive symptoms (Post-concussion syndrome)
Pressure from tight headgear, such as a helmet or goggles
Pseudotumor cerebri
Stroke
Toxoplasmosis
Trigeminal neuralgia (as well as other neuralgias, all involving irritation of certain nerves connecting the face and brain)
Some types of secondary headaches include:
External compression headaches (a result of pressure-causing headgear)
Ice cream headaches (commonly called brain freeze)
Medication overuse headaches (caused by overuse of pain medication)
Sinus headaches (caused by inflammation and congestion in sinus cavities)
Spinal headaches (caused by low pressure or volume of cerebrospinal fluid, possibly the result of spontaneous cerebrospinal fluid leak, spinal tap or spinal anesthesia)
Thunderclap headaches (a group of disorders that involves sudden, severe headaches with multiple causes)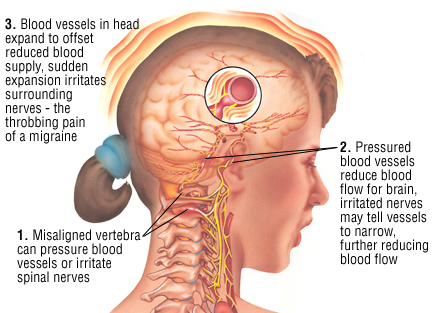 What is the symptoms of migraine ?
Migraine is a common neurological condition that affects millions of people from all ages, nationalities and gender. Like any other disease, its presence is manifested by symptoms felt by the sufferer and whose existence allows physicians to make a diagnosis.
The most common migraine symptom and the most recognizable as well, is the headache. Although it is not present in the rarer forms of the disease, it is one evident sign of migraine. The headache that accompanies a migraine is not the kind that gives a dull ache. The pain felt by migraineurs is the intense, throbbing kind which sometimes necessitates complete rest and disrupts normal daily functions. However , a headache is not the only indicator that signals a migraine. Depending on the migraine attack, a host of other symptoms arise as well. Analyzing them helps the medical practitioner in determining what type of migraine the patient is suffering from and in prescribing the appropriate medications.
An inventory of migraine symptoms could be quite lengthy due to the various types of the disease. A generalized list of these include: severe headache on one or both sides of the head, nausea, vomiting, weakness, vision disturbance, sensitivity to light and sound, pain over one eye, aura, blurred vision and temporary blind spots. When the migraine comes with aura, this gives rise to a whole new set of symptoms that consists of: seeing flashing lights or zigzag lines, temporary blindness, speech difficulty, tingling and weakness in the limbs and face, confusion, giddiness and noise sensitivity. This does not mean the sufferer undergoes all the symptoms during the attack. Most likely, he will experience only a few. Symptoms also vary from person to person. Further, a migraine symptom could be felt days before the attack, during the prodrome stage. In these times, the migraineur has unexplained feelings of elation or intense energy, cravings for sweets, thirst, drowsiness or irritability and depression.
Diagnosing migraine is not an easy task for the physician. In order to make an accurate evaluation, he will need to have as much information as possible, obtained from the patient and from medical tests conducted. Observation and analysis of symptoms is very helpful in arriving at a diagnosis. By knowing what symptoms are experienced by the patient, the specialist will be able to tell what type of migraine it is and what treatments are to be administered. During consultation, the patient will be required to describe the duration and frequency of his headaches and how intense they are, where pain is located, presence of associated symptoms and behavior during a headache. Since other illnesses also exhibit similar sings to migraine, these have to be ruled out. A case in point is the fact that people with sever sinusitis also experience double vision and vision loss.
Experiencing migraine, however mild, is not a pleasant event. But the sufferer can put this to good use by being observant and recording what he is going through. The complexity of migraine and the difficulty in diagnosing it means that no detail is insignificant. Thus, if the patient is to take an active role in the management of his disease, he needs to be vigilant of every single migraine symptom.